Finding the right feeding bottle for your baby can be quite challenging. In fact, it might require some extensive research and even a few sessions of trial and error. That said, it may sometimes be difficult to find stock of your preferred bottle brand because celebrity favoritism has made the product sell out faster than usual. What baby bottles do celebrities use and does that influence your own decision?
Celebrities, like us, opt for baby bottles that make feeding their babies easy and convenient. However, it's no secret that a celebrity's choice can make a certain product more popular. Sometimes, bottle brands will use a celebrity choice as part of their advertising to boost revenue and popularity.
Key takeaways
Celebrity moms, like regular moms, opt for bottles best suited to their babies
While some celeb moms prefer bottles to combat colic symptoms, others opt for the simplicity of silicone variations
Some celeb moms prefer to bottle feed from the newborn stage, and in the process normalize the formula process and reduce mom shaming for opting for the bottle rather than breast
Sharing the same brand as your favorite celebs can leave the product and its accessories short-stocked – so always stock up on nipples and other necessary accessories in advance
Do celebrity moms use expensive baby bottles?
It may surprise you to learn that when it comes to being parents, celebs are more like the rest of us than you might realize. Celeb moms make their bottle brand choices based on their baby's needs.
While some moms opt for more expensive brands, it's not uncommon to see regular brands such as Dr.Brown and Comotomo in their baby strollers. Some celebrities, such as Beyonce, have even been rumored to have used designer bottles such as the Dolce & Gabbana bottle range.
Should you buy the same baby bottles celebrities use?
While you might be intrigued by the lives and actions of your favorite celebrities, you don't have to copy everything they do. When it comes to choosing the right bottle for your baby, your focus should be on the bottle your baby can use without fuss.
Additionally, if your little one suffers from colic symptoms, you might have to opt for a Dr.Brown or NUK bottle rather than your celeb's preferred Comotomo variations.
What baby bottles do celebrity moms use?
If you're curious about what types of baby bottles your favorite celebs use, you'll find this next section an interesting read!
Kim Kardashian – Comotomo
Kim Kardashian is quite possibly one of the most popular celebrities currently on social media. With that said, it's also no secret that everything the reality star does becomes an instant hit with her millions of fans. That includes her preference for the Comotomo bottle brand. In fact, Belle's Baby Boutique uses several photos of her and her children holding their silicone bottles on their Facebook page. One of the reasons she's said to enjoy this brand is that its nipple shape makes transitioning between breast and bottle so much easier. This is actually one of the pros that I wrote about regarding pros and cons of silicone bottles.
Gal Gadot – Comotomo
You might be surprised to hear that Wonderwoman is also a huge fan of the Comotomo brand. Popular Israeli actress, Gal Gadot, well known for her role as Wonderwoman and her recurring part in the Fast & Furious franchise, has been seen around the set feeding her baby using a Comotomo bottle.
In fact, Comotomo took to posting a snap of the superhero mom on their official Comotomo Facebook page in 2017 with the tagline, When Vin Diesel and Gal Gadot are not playing superheroes, Gal is a Comotomo Mom!
Other famous Comotomo moms mentioned on their page in a Comotomo gallery pic include the following:
Liv Tyler
Khloe Kardashian
Tori Spelling
Katherine Heigel
Eva Longoria
Hilaria Baldwin – Nanobebe
Another celebrity mom not afraid to share her motherhood journey on her social media platforms is Hilaria Baldwin. Famous for being Mrs. Alec Baldwin, the yoga instructor and author is a mom to six small children. She often uses her social media platform to share the struggles many mothers endure but seldom discusses them.
Her brand of baby bottle is the ever-popular Nanobebe. In fact, her mentions of the Nanobebe product range on her Instagram account have increased the bottle's popularity, leaving it out of stock in some outlets around the U.S.
Jessica Alba – Born Free Baby Bottles
Actress Jessica Alba is one of only a few celebrities who have been mom shamed for her choice to breastfeed in public. While her doctor recommended not breastfeeding, she chose anyway and opted for breast milk above formula for her children. Her bottle brand of choice is the Born Free Baby Bottle range, well known for its organic properties.
As a BPA-free as well as PVC and chemical-free bottle, it's often a top choice for environmentally conscious parents who prefer organic options. According to a snippet from People.com, the actress was seen shopping for a range of baby products, including Born Free Baby Bottles.
Khloe Kardashian – Philips Avent
No matter how determined a mom might be to breastfeed, the reality is that it doesn't work for everyone. For many moms, breastfeeding can be challenging and sometimes painful. Khloe Kardashian is one such mom. She has been very vocal about her struggles with breastfeeding her children on her various social media platforms. Additionally, she also switches between brands to find the ideal bottle type for her babies.
While her current brand of choice is Philips Avent, she has been known to use Comotomo as well. I wrote about these two brands when discussing about some MAM bottle alternatives. You might also be interested to know that the reality star's Amazon baby registry included a Dr.Brown sterilizer and a Medela breast pump — which just goes to show that like us regular folk, Khloe doesn't mind mixing and matching brands to find the most convenient feeding regime!
Jennifer Lopez – Bottle Choice Unknown
While everyone's darling, Jennifer Lopez, has always kept her children private, she has always been an unapologetic advocate of not breastfeeding by choice. Over the years, she has had several interviews defending her choice to formula-feed from day one.
While it's not clear what her bottle brand of choice was at the time, she has always maintained that bottle feeding was fine for her as a child and has been "just great" for her children. So, if you're feeling guilty about not wanting to breastfeed, superstars like JLo have your back. They're also proof that you and your little one will be just fine!
It's not just celebrity moms who take time out to bottle-feed their babies. Celebrity dad Dwayne Johnson had fans swooning when he took time out of his busy schedule in 2016 to give his baby daughter a bottle! Watch the clip below.
Molly-Mae Hague – MAM and Medela bottles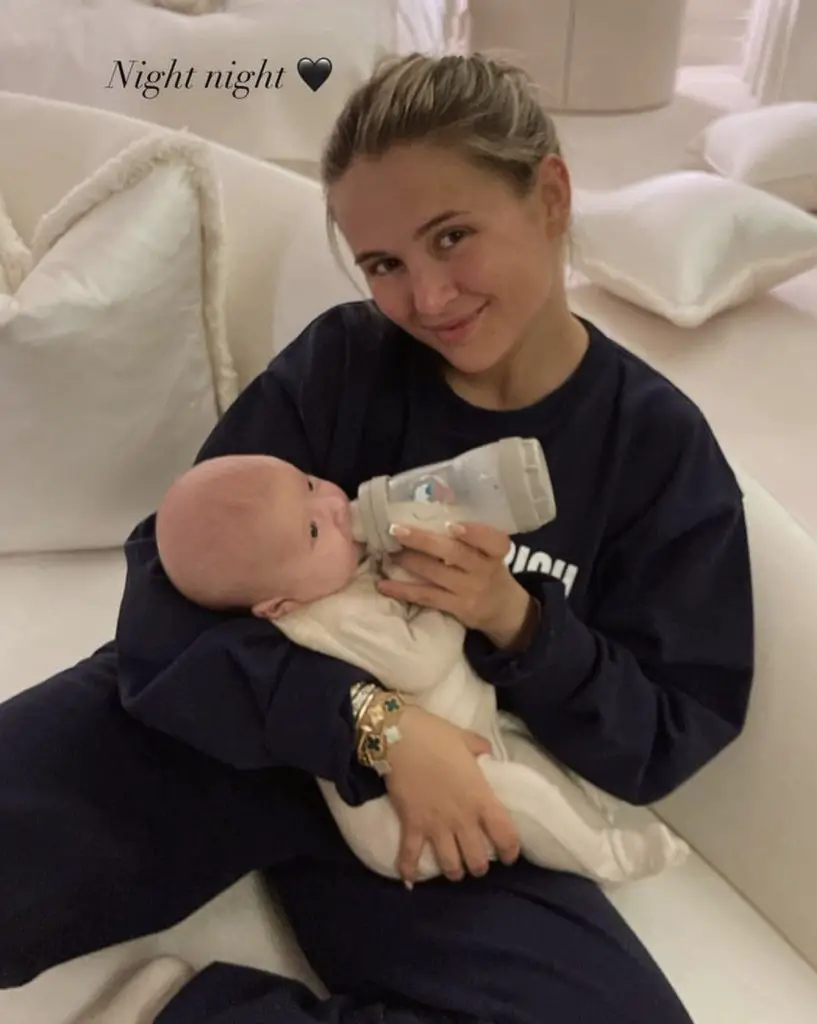 Molly-Mae Hague hasn't openly shared her bottle preference, though her Instagram hints at MAM and Medela choices. Probably she chose Medela bottles since naturally they fit Medela pumps which is her top pumping brand. Here are some MAM-related articles I wrote about: MAM compared to NUK or MAM vs Tommee Tippee.
Flashback to Molly-Mae: her fame skyrocketed in 2019 on Love Island, where she and Tommy Fury were impressive runners-up. After the show, her partnerships with well-known brands have solidified her as one of the UK's most successful influencers.
Final Thoughts
As you can see from my article, it's not just regular folk who have opted to bottle-feed their babies! Celebrities, like the rest of us, shop around and opt for the best bottle brand for their baby. While some may opt for more expensive options, others prefer more natural, environmentally-friendly choices. Always choose the option that's most suitable for your unique little one.
Here are the differences between anti-colic and normal ones, so you can also see that there are brands that offer both. Try some with your baby to see which one gets chosen by him/her. 🙂